I have received enquiries about Thomas Marshall Word Jr. or Tom Word from a woman who purchased historic photos of the Word family at an estate many years ago. She contacted me because she intends to put them up for sale on Ebay, which is great, so that everyone who is interested can have a chance to acquire them. It was several years ago that I was doing some research on him, but apparently I never wrote up the story. I quote here from Jeff Smith on his Soapy Website:
"For a few years now I have been exchanging interesting e-mails with Fred Wood, a great-grandson of Skagway's Thomas Marshall Word. If Fred and I are correct Word is the man who acted as the go-between for Soapy and the vigilante's after John Fay shot and killed Deputy U.S. Marshal Rowan and Andy McGrath. Word was involved in the hunt for the gang after Soapy had been killed and came real close to becoming famous as the man who captured the three top gangsters, Bowers, Foster, and Wilder. Hours later he was one of the guards protecting those same three bunco steerers locked away on the third floor of the Burkhard Hotel. Tom Word twice aided in keeping a blood thirsty vigilante mob from orchestrating a wholesale slaughter and that's something his g-grandson can be proud of."
Jeff has an excellent write up of the information that he has gathered here:
http://soapysmiths.blogspot.com/2010/03/tom-word-skagway-vigilante-1898.html
Anyway, for those of you who are interested, below and above here are a couple of photos of the photos.
Read More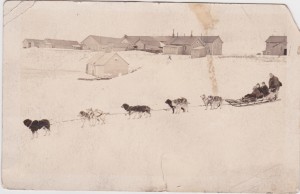 The other day I was at an estate sale in Skagway and picked up this old postcard. After doing a little research I found that the author was indeed related to Bud Matthews who recently passed away here in Skagway.
Ernest J. Matthews was born about 1893 in Idaho. He married Catherine A. Lowe from Utah and they moved to Skagway around 1924 when their first son was born, James, known to everyone here as Bud.
Before they moved to Skagway however, they went to St. Michael's, Alaska and apparently opened a Bakery Store there. Pictured above in the postcard is Ernest and Catherine. Ernest wrote this little card to Catherine's brother, Lynn Hardy Lowe who lived in Salt Lake City. At the time it was written, 1920, he was about 7. Sadly Little Lynn died in 1925 from appendicitis. (My own son had a ruptured appendix at age 7 and how lucky we are today that surgery and an excellent hospital in Albuquerque saved his life.)
The card is signed E.M. and was written on December 7, 1920.

Read More