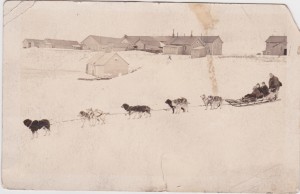 The other day I was at an estate sale in Skagway and picked up this old postcard. After doing a little research I found that the author was indeed related to Bud Matthews who recently passed away here in Skagway.
Ernest J. Matthews was born about 1893 in Idaho. He married Catherine A. Lowe from Utah and they moved to Skagway around 1924 when their first son was born, James, known to everyone here as Bud.
Before they moved to Skagway however, they went to St. Michael's, Alaska and apparently opened a Bakery Store there. Pictured above in the postcard is Ernest and Catherine. Ernest wrote this little card to Catherine's brother, Lynn Hardy Lowe who lived in Salt Lake City. At the time it was written, 1920, he was about 7. Sadly Little Lynn died in 1925 from appendicitis. (My own son had a ruptured appendix at age 7 and how lucky we are today that surgery and an excellent hospital in Albuquerque saved his life.)
The card is signed E.M. and was written on December 7, 1920.