Father Gallant was born in 1894 in Rustico, Prince Edward Island, Canada.
In 1898, during the Klondike gold rush stampede, Father Rene and Father Philibert Tumell, established Saint Mark's Church in Skagway.
Young Father (later Monsignor) George Edgar Gallant, became the first priest ordained in Alaska on March 30, 1918. He came to Skagway in 1921 and built a new church and school here, which were named for Saint Theresa of the Child Jesus.
In 1931, Monsignor Gallant would establish Saint Pius X Mission Home for Native children who were either orphans or from destitute families, staffed by the Sisters of Saint Ann. It would be rebuilt in 1946, and would operate until the 1960s. Father Gallant stayed in Skagway until about 1929.
He was a Redemptorist Oblate and quite instrumental in encouraging and promoting the Redemptorists to establish a foundation in Alaska. He was a great devotee of Our Mother of Perpetual Help Devotions.
Monsignor Gallant died on this day, August 4, 1931 back in PEI, Canada.
The church above is St Theresa's on State Street and 9th Avenue, services on weekends year round.
Redemptoristsdenver.org; census; directories; familysearch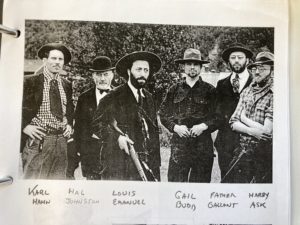 Comments
comments